Skip to content
Polishing
---
Nanoset Densifier
NewLook Nanoset Densifiers penetrate polished concrete to increase surface density and hardness.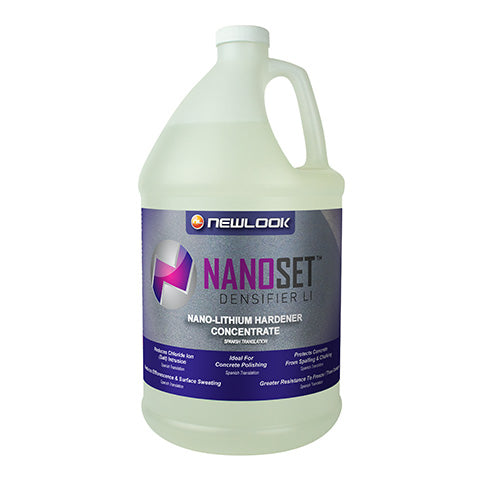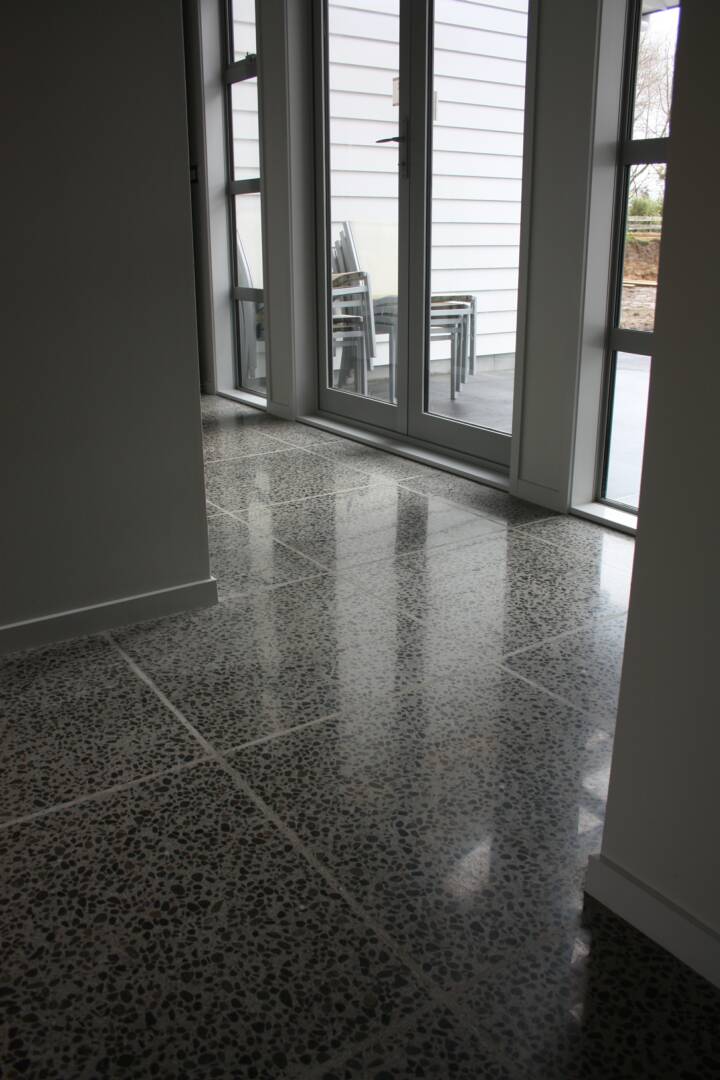 Penetrating Polished Concrete to Increase Surface Density and Concrete Hardness
Newlook provides two types of Nanoset Densifiers, Nanoset Densifier LI and Nanoset Densifier NS.Nanoset Densifier Li is an effective blend of reactive lithium silicate that penetrates polished concrete to increase surface density and hardness. While Nanoset Densifier NS is a nano silica based densifier that also densifies and increases the overall hardness of the concrete. Read below to learn more about the different densifiers and how they can be effective for your projects.
Nanoset Densifier NS
NanoSet Densifier NS™ is an advanced blend of reactive nano
silica that penetrates polished concrete deeply and efficiently to
increase surface density and hardness, as well as provide additional protection and longevity of the polished concrete substrate.
The water-based formulation has concentrated nano-sized silica particles (5 nm) with a pH of 9.5 that permanently bonds with existing concrete chemicals, offering incredible protection and longevity.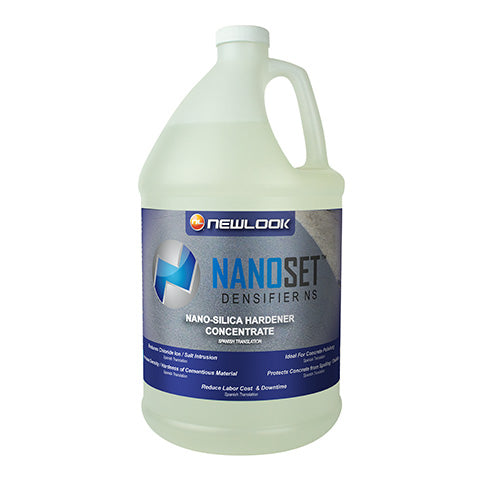 COVERAGE ::
1G Coverage rate is 300 to 600 (average 500) square feet per mixed gallon
"Amazing. NanoSet Densifier NS is truly faster, easier and cheaper than [what I've used in the past]. I'm totally switching. " — H. Carter; Akron, OH
Technology
The NanoSet™ Concrete Polishing System utilizes a proprietary and green
manufacturing process and leverages advanced, inert nano-technology to
deliver sustainable and durable results. The concentrated dispersion of
amorphous, nano silica particles offer extensive chemical reaction-sites
that penetrate deeply and start reacting quickly and more efficiently
upon contact, forming calcium silica hydrate (CSH) and strengthening the
concrete matrix and increasing its stain resistance. Download the TDS
to learn how to polish concrete floors.
---
Sunday,Monday,Tuesday,Wednesday,Thursday,Friday,Saturday
January,February,March,April,May,June,July,August,September,October,November,December
Not enough items available. Only [max] left.